July is just about over, so of course, a bunch of messages, comments, DMs, and more have gone viral. Here are some of the best.
1. This dad text thread:
texts with my dad lol pic.twitter.com/8PaVkqrDBB

— Tabir Akhter (@tabir) July 12, 2020
2. This blunt Grindr message:
what does this mean???? pic.twitter.com/jenqGJbTL3

— jordan (@sylphmon) July 8, 2020
3. This comment:
Someone needs to have a word with Cheryl . pic.twitter.com/cRCRzNsZKc

— Elaine (@ElaineYoung94) July 8, 2020
4. This typo message:
Due to the HUH?? pic.twitter.com/tWxch8gjih

— berto (@savageburto) July 3, 2020
5. This backhanded message:
I want to thank this girl on hinge for reminding me how my stand up career was going pre-pandemic. pic.twitter.com/UKdhYHGeDf

— Chris Barnes (@ChrisBarnesNYC) July 6, 2020
6. This rediscovered Facebook status:
Happy 11th anniversary to the worst thing I've ever posted pic.twitter.com/YzA1KfwAbU

— Michael Benjamin (@mfbenji) July 3, 2020
7.
my tinder bio versus the offensive message I just received pic.twitter.com/iXR4BdAEig

— bec 🏳️‍🌈 (@afamilyofslugs) July 7, 2020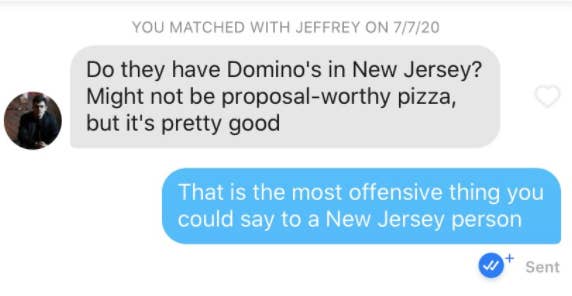 8. And this re-discovered DM:
a little over a year ago i received this dm. every day since, ive lived in fear pic.twitter.com/AHtUPDfqdV

— eric curtin (@dubstep4dads) July 11, 2020
9. This jury duty Grindr message:
not me finding out I have jury duty through grindr pic.twitter.com/Ao2u4WDVLJ

— Dallin (@DallinMello) July 10, 2020
10. This cake-meme text:
tired of this pic.twitter.com/dAxW8MfykH

— eric curtin (@dubstep4dads) July 11, 2020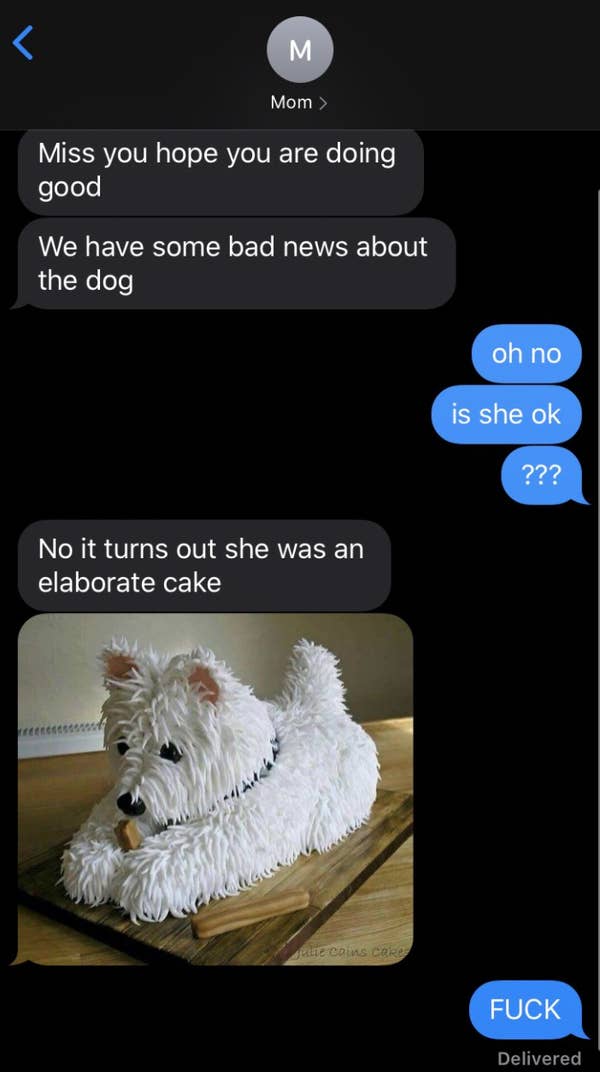 11. This unreal Grindr message:
July 6, 2020
12. This dramatic text:
Girlfriend is just a tiny bit dramatic pic.twitter.com/Agos2FBvB9

— C H A R L I E (@charlieSuch98) July 27, 2020

13. This DM…wow: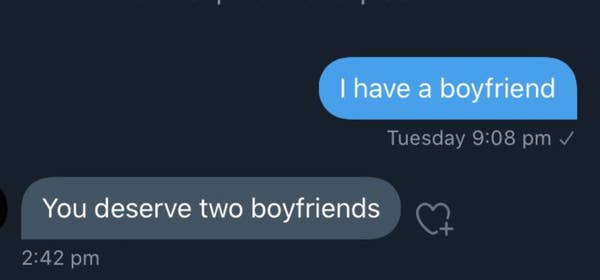 14. This "shoot your shot":